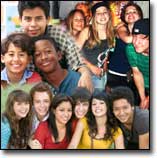 Welcome
The K-12 Student Outreach Program offers various science, mathematics, and technology-content-based courses for students in 2nd through 12th grade.
Registration for the 2019 winter break camps for 3rd through 5th graders is open now!
Upcoming Student Programs
Academies for Young Minds

The Academies for Young Minds camps, designed for those who entered 2nd through 8th grade in Fall 2018, encourage children to be innovative and use creative problem-solving by engaging them in fun, hands-on activities.

Two camps are available for the winter break in 2019, with each being a half-day in duration. For half-day camps, students can choose to attend either a morning or afternoon session or two camps on the same day.

Please be sure to check the grade levels associated with each camp, since not all camps are available for all grade levels.

Registration for Academies for Young Minds Winter Break Camps is open NOW!

Click here for more information and to register.

Spring Break Camps??

Colorado School of Mines may be offering spring break camps this year for elementary and/or middle school students. Be sure to check this website for more information as Spring 2019 approaches.